Who is involved with the Bujinkan Gurei Dojo?
Our dojo has a good mix of both Japanese and foreigners, both Japan residents and visitors. Instruction is given in a combination of both Japanese and English by Shawn (15th dan, living in Japan since January 1997) and Mike (?? dan, living in Japan for about 20 years). Shawn derives his main taijutsu influence from Shiraishi Sensei and Mike from Noguchi Sensei. In this way, the dojo has a good balance of influences from both of these senior Japanese Shihan. Japanese culture places much importance on close personal relationships, and both Shawn and Mike have developed deep, direct relationships with their Japanese teachers in a way that would not be possible if they had trained with different instructors every week. Having lived in Japan for this length of time, Mike and Shawn are both able to communicate the teachings of Japanese martial arts in Japanese as well as English, conveying important aspects of Japanese culture intrinsically linked to Japanese martial arts. This includes not only verbal instruction, but to teachings written in Japanese as well (densho, Tenchijin-ryaku-no-maki, etc.). We feel that this connection to Japanese language and culture is an indispensable aspect of Japanese martial arts.
Our classes are held on Saturday mornings at 9:30am in Abiko and Thursday mornings at 10am at Hombu Dojo in Atago (Noda). Visitors are more than welcome to attend. Please let us know in advance if you'd like to come.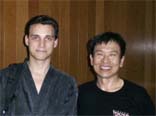 Short History
Shawn left behind 7 years of Karate and 3 years of Kendo to begin training in the Bujinkan Dojo in Vancouver, Canada after returning from a 1-year stay in Japan in 1990. After a training trip to Japan in 1995, he decided to move back to live and have been studying in Japan as a regular student of Shiraishi Sensei and Hatsumi Sensei since the beginning of 1997. Shawn has also trained with all of the other senior Japanse Shihan and admires each of them for their own unique abilities.
include("footer.html"); ?>